A fun and original approach to boost your style game is to accessorize a royal blue dress. It's possible to pair this adaptable color successfully with a variety of accessories, but it's crucial to find the perfect balance to avoid going over the top. There are countless ways to accessorize a royal blue dress, from shoes and jewelry to bags and scarves.
You may create a trendy and sophisticated style that will attract attention with a few simple tips and tricks. Accessorizing a royal blue dress is the ideal way to show off your individual style, whether you're getting dressed up for a special occasion or want to add some extra flair to your everyday wardrobe.
A good rule of thumb is to select accessories that enhance rather than compete with the color and style of your outfit. For instance, you can add interest to a solid royal blue dress with patterned accessories.
Still, it's preferable to keep your accessories more understated if your dress has many delicate features. In order to create a coordinated and fashionable style, accessorizing a royal blue dress ultimately involves striking the correct balance between complementary and dominating pieces.
How to Accessorize a Royal Blue Dress Formally| On Weddings:
You can wear a royal blue dress to a wedding. In fact, royal blue is a popular choice for wedding guests.  There are numerous choices that will complement your blue dress beautifully and make you stand out from the crowd. A white blazer and your blue dress are one possible combination.
This classic appearance is perfect for any formal event. Try wearing your blue dress with a colorful scarf or accessory for something a little more joyful and celebratory. You'll seem more vibrant and become the life of the party as a result. Add some gold accessories to your ensemble if you're wondering what to wear to a wedding with a blue dress. Gold necklaces, bracelets, and earrings will all enhance your appearance and make you sparkle on your special day. For a more refined look, you can also choose a hairstyle with gold embellishments.
How to Accessorize a Royal Blue Dress Casually:
You can wear a royal blue dress with a  jacket and a white hat. You can also wear a white coat over a royal blue dress to look casual and trendy. You can also wear a royal blue dress with a  pair of jeans. A  pair of jeans will make the royal blue dress look more casual.
Shoes that will make Everybody Choose You: 
Metallic Shoes:
Royal blue dresses go well with metallic shoes because they lend a sense of elegance and glitz to the ensemble. Here are some concepts to think about:
Royal blue goes well with a variety of colors, including silver, a traditional metallic shade. Use silver sandals or pumps to give your outfit a sleek, refined feel.
Gold is a warm, opulent metallic color that may give your ensemble a touch of glitz and opulence. For a striking and assured appearance, go for gold shoes like stilettos or ballet flats.
Rose gold is a sweet, romantic metallic color that can produce a delicate appearance. Use rose-colored footwear, like strappy heels.
Vibrant Color Shoes:
It's crucial to balance the look with the rest of your outfit when wearing colorful shoes. To keep your ensemble from being overly overpowering, think about wearing jewelry and accessories in more neutral tones. If you're dressing up for a formal event or keeping it casual for a daily outing, be sure to select shoes that are appropriate for the setting.
Bright pink called fuchsia goes well with royal blue and adds a fun touch.
Yellow is a happy, upbeat color that can bring some sunshine into your outfit.
Orange is a daring and unusual color that can give your look some edge.
Brown is a great choice because it gives the outfit an earthy feel.
Red is another one of those colors that people associate with royalty or nobility, which makes it the perfect choice for when you're going for a vivid shade like royal blue.
Green is a revitalizing and organic hue that can go well with the blue of your clothing.
Nude Color Shoes:
Given that they offer a polished and elegant appearance, neutral-colored shoes can be a versatile and fashionable alternative to wear with a royal blue dress.
Pumps in beige or neutral tones are timeless options that can produce a sleek and businesslike appearance. Depending on your unique style and level of comfort, choose pumps with a pointy or rounded toe.
Warm and earthy taupe is a neutral color that goes well with a variety of ensembles. For a casual or elegant look, choose taupe sandals with low or high heels.
Flats in shades of cream or off-white are a cozy and fashionable choice that can produce a clean and sophisticated appearance. To keep the attention on your feet, choose flats with a simple style, such as ballerina flats or loafers.
Transparent Shoes:
In recent years, transparent shoes have become very fashionable because they give any ensemble a special, whimsical touch. There are a few things to consider when matching transparent shoes with a royal blue dress:
There are numerous transparent shoe designs available, including pumps, sandals, and boots. While choosing a pair to go with your outfit, take into account the situation and your own preferences.
To avoid overpowering the look when wearing transparent shoes, it's crucial to choose simple, refined clothing throughout the remainder of your look. To achieve a trendy and contemporary style, think about wearing your transparent shoes with a classy and understated royal blue outfit.
Consider introducing a burst of color through your accessories, such as a vividly colored purse or statement necklace, to give the outfit some flare.
Animal Print Shoes:
Animal print shoes are a fantastic way to give your ensemble some edge and individuality, especially when worn with a royal blue dress. Here are some ideas:
A variety of outfits can be complemented by the traditional and classic choice of leopard print shoes. Depending on the event and your level of comfort, pick pumps with a low or high heel.
The lively and fun aesthetic that zebra print sandals may generate is ideal for a daytime event or a more laid-back attire. For sandals that are more comfortable and useful, pick ones with a flat or little heel.
The dramatic and edgy image that snake pattern boots may generate is ideal for a midnight event or a more formal attire.
Statement Jewelry That will make you Feel Heavenly:
It's crucial to select jewelry pieces that, without competing with your dress, enhance the color and style of your outfit. You can put together a fashionable and coordinated outfit that will make you feel confident and gorgeous by keeping the jewelry basic and uncomplicated. Jewelry made of silver or white gold can give glimmer and brightness to a royal blue dress without competing with the strong hue.
A royal blue dress can look lovely with pearl earrings, which are a timeless option. For a refined and exquisite appearance, think about wearing a pearl necklace, bracelet, or pair of earrings. A royal blue dress might seem more elegant with some crystal or rhinestone jewelry. You might think about wearing bright jewelry if you wish to look more fashionable and girly.
Necklaces and Earrings:
The trick is to pick jewelry that enhances the dress's color and style without competing with it. You may put together an outfit that is coherent and fashionable and will make you feel beautiful and confident by choosing subtle, simple elements.
A royal blue dress can be made more sophisticated and elegant with a pendant necklace and a pair of drop earrings.

Think about wearing a large statement necklace and stud earrings to make a strong fashion statement.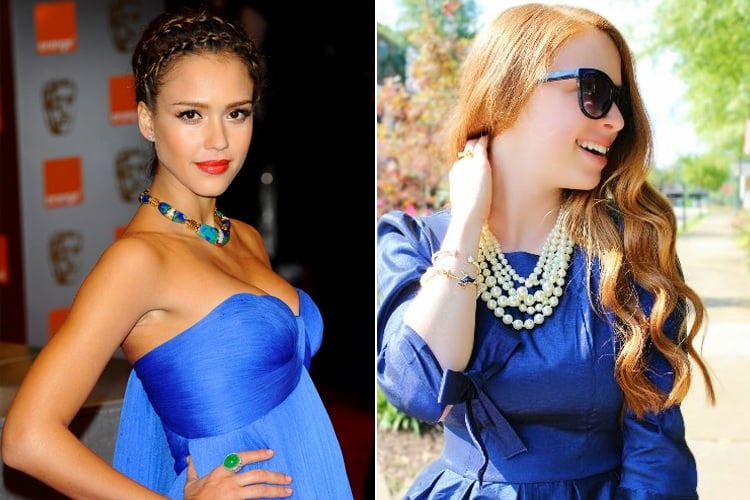 Wearing hoop earrings and a choker necklace with your royal blue dress can give you a more edgy and contemporary appearance.

A royal blue dress can be given a touch of timeless elegance with a pearl necklace and drop earrings.
Bracelets:
Wearing a royal blue dress? A bracelet might be a terrific way to finish off your ensemble.
A modest silver bangle bracelet can elegantly and simply add some shine to your ensemble.

To match the color of your dress, choose a simple pearl strand or a bracelet with pearl accents.
A bracelet with crystals or rhinestones can give your outfit a touch of glitter and glamour.
Your outfit can gain flair and appeal by wearing a charm bracelet.
A cuff bracelet can give your outfit a bit of edge and boldness.
Belts:
A belt may be a terrific way to add interest to your wardrobe and draw attention to your waistline when worn with a royal blue dress.
A straightforward, slender belt in a complementing hue, like silver or black, can give your ensemble some class and sophistication.
A wide belt may make a statement while also giving your ensemble some structure and shape. Choose a belt in a complementary color, such as brown or gold.
For a coordinated effect, use a belt with a buckle or other adornment that matches the hue of your dress.

Use a braided belt around your natural waistline or just below it to add texture and intrigue to your ensemble.
Bags | The Apple on Cherry:
The same principle applies to selecting a bag: it should match the color and style of your dress, be useful, and be appropriate for the setting. By picking a purse that goes with the dress, you can put together a coordinated and fashionable ensemble that will make you feel attractive and confident. Here are some concepts to think about:
Clutch Bags:
Simple clutch bags might be an excellent alternative to go with a royal blue dress. To keep the spotlight on the dress, pick a clutch in a contrasting color, like silver or gold, or go with a neutral clutch.
A Crossbody Bag:
Choosing a crossbody bag for a daytime function or a more casual dress can be handy. To keep the attention on the dress, go for a neutral-colored or complementary-colored purse.
Tote Bag:
Whether you're going to work or going shopping, a sizable tote bag can be a convenient option for carrying all of your necessities. Use a neutral-colored purse, such as black or brown, to keep the attention on the outfit.
Shoulder Bag:
A shoulder bag is a terrific option for a midday event or a more laid-back attire. To go with the outfit, pick a purse with a neutral color or complementary hue.
Statement Bag:
Choosing a bag in a contrasting color or with eye-catching accents or decorations will help you make a big statement with your accessory. But, make sure the bag you pick enhances rather than detracts from the dress's color and style.
Personal Tips on How to do Makeup with Royal Blue Dress on:
Finding the colors that suit your dress color will help you design a beautiful look that goes well with a royal blue dress.
Blue shades, such as navy or baby blue, as well as browns, golden, and corals, provide the finest eyeshadow colors for a royal blue dress. To make your eyes sparkle, you can also use white or silver makeup.
These shades can also be used as accents to draw attention to particular facial features, such as your cheekbones or lips.
You can use secondary colors like green and blue to create a natural makeup look with a royal blue outfit.

Red, pink, coral, and nude lipstick hues go well with a royal blue dress.

Use strong red lipstick if you use natural eyeshadow.

Use Nude or light pink lipstick if you want to draw attention to your eyes.
Conclusion:
Finally, accessorizing a royal blue dress can be a creative and enjoyable method to showcase your unique sense of style and make a statement. There are several choices that can accentuate and enhance the attractiveness of your dress, ranging from monochromatic and neutral accessories to animal print, metallic, nude, and even transparent shoes. It's crucial to keep the occasion, your own taste, and the overall appearance you want to achieve in mind while choosing your accessories. You may make a royal blue dress into a captivating and memorable ensemble by adding the correct accessories.
Accessorizing a royal blue dress may make you feel like a real princess, regardless of whether you're getting dressed up for a formal occasion or keeping things simple for a daily stroll. You may design an outfit that is both sophisticated and distinctive by adding your favorite jewelry, shoes, purses, and belts. With these suggestions and ideas, you can be sure that your magnificent royal blue dress and its ideal accessories will catch everyone's attention and leave a lasting impression.
FAQs:
Match your royal blue dress black heels outfit with a black bag – maybe even a jeweled or patent version – or a metallic purse. Silver, gold, or rose gold will be charming! But don't discount a white bag. A small white clutch can look great with this color mix.
Gray.
Yellow.
Silver
Off-white or ivory.
Green.
Hot pink.
Gold.
You should utilize deeper hues because a cool skin tone frequently denotes pale skin or features. The greatest clothes for people with pale skin frequently feature vibrant blues, navy, and emerald green.
Hence, you might choose to go with a vibrant hue, like yellow or pink, with a floaty blue dress. These two hues look great in both spring and summer. While you could want to choose a more neutral nail color, like white or light grey, to go with your elegant blue wrap dress.
Orange is a natural complement to blue because it is the hue opposite blue on the color wheel. In addition to being aesthetically pleasant, this contrast provides an energy element that is ideal for a busy kitchen.